Hello, do you need help? Ask us question and we will answer.
Hello, do you need help? Ask us question and we will answer.
BENEATH THE ZEST OF ORANGES AND LEMONS LIES ONE OF THE WORLD'S GREATEST FESTIVALS
La Fête du Citron® (Lemon Festival), an unique event in the world, attracts 240,000 visitors every year – a number which is constantly rising.
With processions of floats, gardens of lights and the exhibition of giant designs, come and discover this fantasy world, and move to the rhythm of a simply unforgettable event.
More than 300 professionals work on the project and 145 tons of citrus fruits are used.
85e Fête du Citron® : Bollywood
from 17 February to 4 March 2018
play a part in the films' plots. Tales full of twists and turns will unfold in the shade of the yellow and orange towering citrus fruit structures, under the impassive gaze of statues of the gods. Beautiful heroines will dream and dance beside a lotus-shaped fountain, before being taken away through the buzzing overcrowded towns by rickshaw to the happy ending that any great film requires.
When night falls, the Gardens of Lights (17, 23 February and 2 March at 8.30 pm) will offer the opportunity to stroll through the citrus fruit designs, which will take on a dreamlike quality under the artistic, artificial lighting.
The colours will sparkle and acquire a poetry of their own. However, la Fête du Citron ® would not be what it is today without its famous 'Corsos' (parades of decorated floats).
Events take place during the day with the 'Golden Fruit Parade' (Sunday 18 – 25 February and 4 March 2018 at 2.30 pm) and at night with the 'Night-time Parade', followed by a firework display (Thursday 22 February and 1 March at 9.00 pm).
Once again this year, decorated floats, each one more amazing than the last, will capture the world of Bollywood through the rhythm of Indian dance and music. It is a unique show that will be treat for all the senses…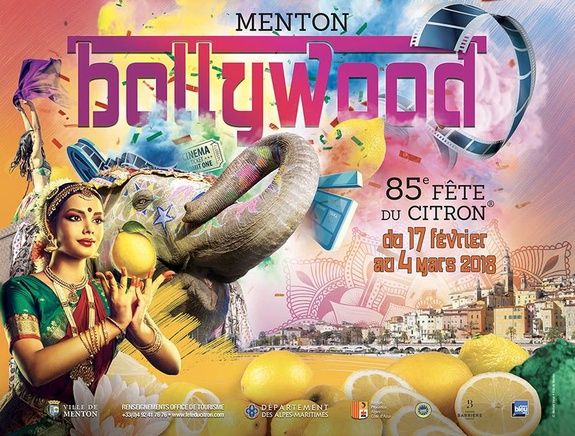 Activities and Tourism Nearby